Interceptor Cleaning from Industry Leaders PureClean Environmental
Interceptors are tanks which are fitted underground in many locations such as garages, petrol forecourts, car parks, distribution centres and manufacturing sites. These systems are designed to allow rainwater to drain away but to trap all other pollutants. Depending on their position, interceptors can quickly become blocked or full and this can cause back flow, resulting sometimes in quite serious surface pollution. Government guidelines suggest that interceptors are cleaned on at least a six monthly basis to prevent this and BIS have dedicated teams which are highly trained in this procedure.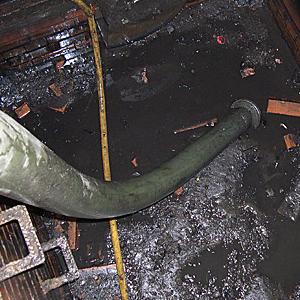 If your six monthly interval for Interceptor Cleaning is approaching or you suspect that your interceptor may be full or blocked, call our friendly team to arrange for an interceptor clean, after which you can discuss instituting a regular appointment to prevent any surface or water table pollution.
At BIS we provide a full range of interceptor cleaning solutions to the leading industry standards, utilising the latest technology KSA Machinery.
We process all your interceptor waste onsite, by adding a polymer to separate solids from the liquids, we then return the clean water back into your system to reseal. Our unique interceptor cleaning process is proven to reduce your waste costs against conventional tankers.
————————————————————————–
Tank Cleaning
Barry Industrial Services LTD personnel have the practical experience and motivation to complete tank cleaning work, whatever the size, to the customers specification, to a programme and with minimum supervision. As always with a professional organisation you get what you pay for, Safety FIRST and Efficiency. Our expert personnel are available to provide sound proposals based on wide practical experience backed up with full technical facilities.
Cleaning of all stored products such as refined oil, gas, petrol, fuel, tar, bitumen and hazardous chemicals such as Phenol, Acid, Caustic, T.D.I and E.D.C. are all treated with the same respect and attention to safety. All our personnel are qualified in the use of breathing apparatus, naturally no tank cleaning service is complete unless the inevitable residue can not only be removed safely from the Storage Tank but also be transported off site and disposed of in a manner which complies with the current disposal of Special Waste Act.
Continuous updating of equipment ensures that Safety remains upmost in the minds of our expert technicians. Efficiency and technical ability combined with hard work ensure that contractual delays and potential problems are reduced to a minimum.