BIS provides a thorough septic tank cleaning service in South wales  for commercial and domestic properties. When A septic tank is installed, it is something that many people tend to fit and forget, but this is not something that can be ignored.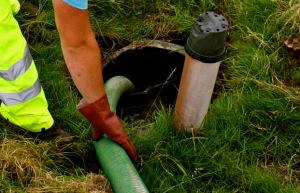 The bacterial culture in the tank breaks down most waste to a more acceptable product, but even so will need emptying around twice a year, depending on how much water and effluent it has to deal with. Clearly, this is not something a property owner can generally can do themselves, but with BIS  you don't have to worry. We will empty and clean your septic tank on a regular basis, so you don't have to worry whether it is working properly or not.
There are some things you can do for yourself to make sure that your septic tank works well. These include being careful what you put down your toilet or sink. Things like disposable nappies, with their plastic outer, should never get into your septic tanks and when putting things down the sink, try and avoid coffee grounds and similar clogging things like grease. Bleach and other chemicals can kill the culture, so should be avoided. Large quantities of water also gives the septic tank a lot to treat and can cause the system to fail. Signs that this is happening include persistent wet spots or particularly lush growth in the garden or unpleasant smells.
Prevention is far better than cure, and is certainly far less costly as well as less disruptive. Fixing a failed septic tank is a major job so arranging regular emptying and cleaning from BIS makes sense both environmentally and financially. We can book your regular visits, so you can't inadvertently forget and let your septic tank reach crisis point. With BIS visits on your calendar, you really can forget all about your septic tank.
At BIS we provide a full range of Septic Tank cleaning solutions to the leading industry standards, utilising the latest technology KSA Machinery.
We process all your Septic Tank waste onsite, by adding a polymer to separate solids from the liquids, we then return the clean water back into your system to reseal. Our unique process is proven to reduce your waste costs against conventional Septic Tank cleaning tankers.